Project Bike - Get them up and running - BMW R90/6
story by Bailey Rowe; Photos by - Mike
The BMW R90/6 was purchased at Haigslea Swap in April 2012. It ran but didn't idle well and the indicators only worked on one side.
The first thing was to order a carby kit for the dual Bing carburettors. All carby seals including the diaphragms were replaced. Each carb was dismantled separately and the settings recorded. Several reference visits were made to
SnowBum's BMW site
as Bing needles are fitted with a 'twist and click' motion. The carbs were full of dirt and crud so the tank had to be removed and rinsed out. This meant the fuel taps required cleaning or replacing. BMW Karcoma taps can be rebuilt with minimal effort. The catch is "normal " taps will not fit the BMW tank.
The finished project There are still some things to sort out but it rides and handles well. On its first outing I ran out of fuel just after checking that there was sufficient fuel in the tank to get to the next stop. On the large tank enough fuel sits below the bottom level of the fuel taps to give the impression there is lots of fuel remaining - there is but it cannot come out of the taps. Why did we run out? I rebuilt the taps exactly as they were originally before I pulled them apart with the reserve tube in the main inlet so the taps were always on reserve. Lesson 1: test every thing!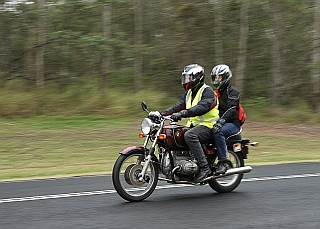 Finished project 2 up outside Grandchester
Top