1924 TT Sunbeam
This bike is commonly known as a 1924 "TT" Sunbeam, but the factory just called it the "OP". (P for `Parallel'), as opposed to the "OS" (S for `Sprint'). The two machines are identical except for the shape and size of the tank.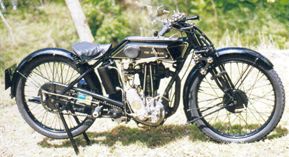 It differs from a 1924 Model 9 by having a close ratio gearbox, no kickstarter, shorter wheelbase, twin bowl B&B carburettor, ETC racing magneto, Bentley & Draper fork dampers, dry sump lubrication, etc. It is identical to the bike Les Randles used to win the 1924 Amateur TT.
My bike was brought to Australia (Perth) in the sixties by English immigrant Neil Stevenson, who had raced it at Mallory Park, etc. Neil sold it to Bert Holmes in the early eighties, and I bought it from Bert a few years ago.
It is a delight to ride, with a smooth, torquey motor, and pin-sharp steering. It really feels like a racer, despite its beaded edge tyres. It pulls a 4.2 top gear, and cruises quite happily at 60 to 65 mph. The only non-standard items are the silencer and the twistgnp, originally a lever throttle.

Go to top